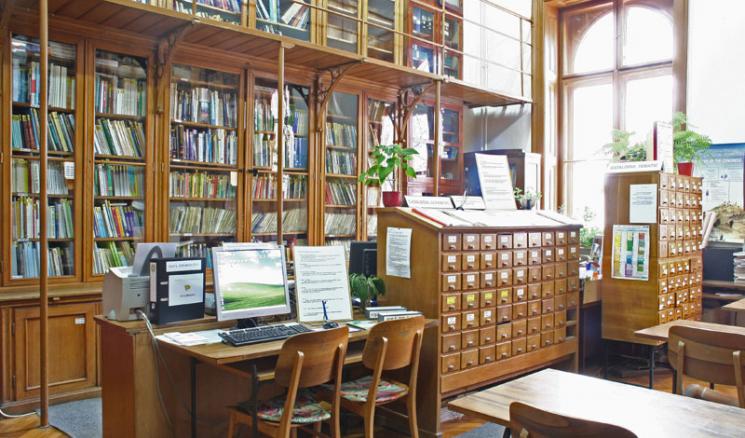 Descriere filiala:
Biblioteca a luat fiinţă prin unificarea celor două biblioteci ce funcţionau din anul 1919 la Universitatea Regele Ferdinand din Cluj, pe lângă prestigioasele catedre de Geologie - Paleontologie şi Mineralogie - Petrografie.
Este localizată în clădirea Universităţii "Babeş-Bolyai", la parter, sala nr. 50, pe holul cu Biblioteca de Filosofie.
Colecţiile bibliotecii cuprind atât publicaţii de referinţă în domeniul Geologiei şi ştiinţelor înrudite cât şi publicaţii necesare desfăşurării procesului de învăţământ şi cercetare.
Fonduri:
Fondul de cărţi: 31431 volume
Fondul de periodice: 9364 volume
Fondul Givulescu: publicaţii cu tematica de Paleobotanica - 1710 volume
Publicaţii achiziţionate din proiecte de cercetare ale Facultăţii de Biologie şi Geologie
Publicaţii deosebite:
Olaf Medenbach, Harry Wilk (1977) The Magic of minerals. Berlin, Springer-Verlag. Album de minerale din toata lumea, cu 110 fotografii color in format 37x31 cm.
H. D. Holland, K. K. Turekian (eds.) (2004) - Treatise on geochemistry vol. 1-10. Amsterdam, Boston, Heidelberg, [etc], Elsevier Pergamon.
Scott A. Elias (ed.) (2007) - Encyclopedia of Quaternary Science vol. 1-4. Amsterdam, Elsevier.
Michael Ruse, Joseph Travis (eds.) (2009) - Evolution : the first four billion years. Cambridge, Mass ; London, The Belknap Press of Harvard University Press, 979 p.
Istvan Fozy, Istvan Szente (2014) - Fossils of the Carpathian region. Bloomington, Ind, Indiana University Press, 484 p., il. color.
Baze de date proprii:
Carti-Geologie (ProCite): cuprinde cărţi intrate în fondul curent al bibliotecii, manuale universitare - 8867 titluri
Reviste-Geologie (ProCite): cuprinde periodice din fondul bibliotecii - 528 titluri
Articole-reviste romanesti (ProCite): cuprinde articole din reviste româneşti existente in bibliotecă (1965-2018) - 16500 titluri
Paleobotanica-Givulescu (ProCite): cuprinde carti, reviste si extrase cu tematica de Paleobotanica, donate de Prof. Razvan Givulescu - 1900 titluri
Microfacies (ProCite): cuprinde articole din reviste străine existente in bibliotecă, cu tematică de microfaciesuri carbonatice - 830 titluri
Adrese utile: