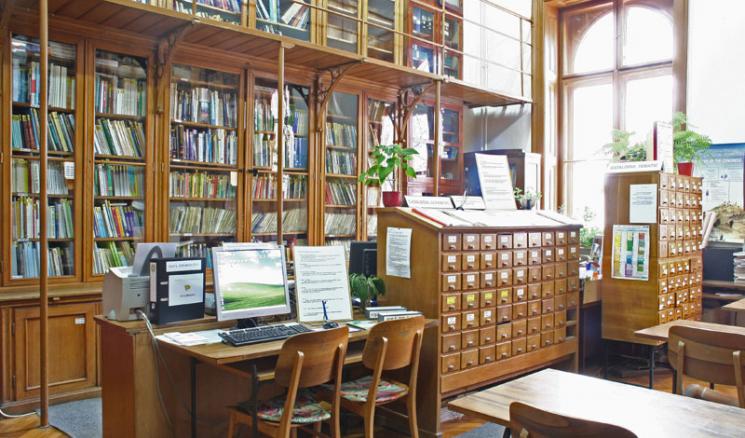 Descriere filiala:
The library came into being through the unification of the two libraries that functioned in 1919 at the King Ferdinand University of Cluj, as part of the prestigious departments of Geology-Paleontography and Mineralogy-Petrography.
It is located within the Babeş-Bolyai University, on the ground floor, room no. 50, in the same hallway as the Library of Philosophy.
The library's collections contain both reference publications in the field of geology and the related sciences, as well as the publications necessary for the education and research systems.
Collections:
Books: 314331 volumes
Periodicals: 9364 volumes
The Givulescu collection: publications from the paleobotany field – 1710 volumes
Publications acquired through the research projects of the Faculty of Biology and Geology
Special publications:
Olaf Medenbach, Harry Wilk (1977) The Magic of minerals. Berlin, Springer-Verlag. An album of minerals from across the world, containing 110 colour photographs in a 37x31cm format.

H. D. Holland, K. K. Turekian (eds.) (2004) - Treatise on geochemistry vol. 1-10. Amsterdam, Boston, Heidelberg, [etc], Elsevier Pergamon.

Scott A. Elias (ed.) (2007) - Encyclopedia of Quaternary Science vol. 1-4. Amsterdam, Elsevier.

Michael Ruse, Joseph Travis (eds.) (2009) - Evolution : the first four billion years. Cambridge, Mass ; London, The Belknap Press of Harvard University Press, 979 p.

Istvan Fozy, Istvan Szente (2014) - Fossils of the Carpathian region. Bloomington, Ind, Indiana University Press, 484 p., il. color.
The library's own databases:
Books-Geography (ProCite): the database contains the books that are part of the current collections of the library, namely university text books – 8867 titles

Periodicals-Geology (ProCite): the database contains the periodicals that are part of the library collections – 528 titles

Articles-Romanian journals (Procite): the articles published in the Romanian journals present in the library (1965-2018) – 16500 titles

Paleobotany-Givulescu (ProCite): books, journals and extracts that approach the subject of paleobotany, donated by Professor Razvan Givulescu – 1900 titles

Microfacies (ProCite): articles from foreign journals present in the library, which approach the subject of carbonatic microfacies – 830 titles
Useful links: