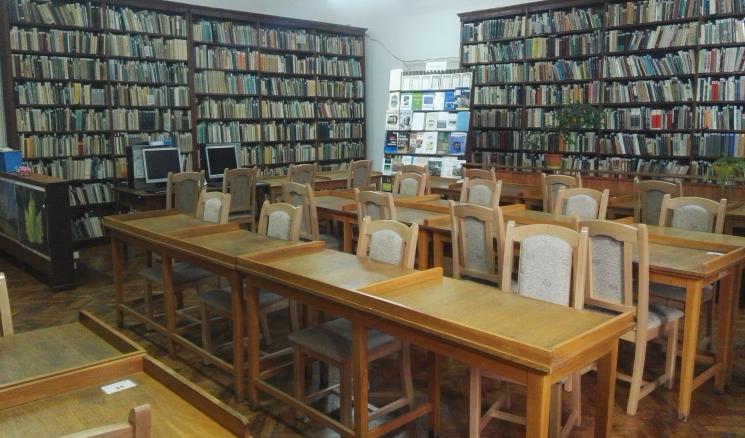 Date de contact:
Address:
Clinicilor Street no. 5-7, first floor, Cluj-Napoca, Romania
Phone:
40-264-597092/int. 153
0771399213
E-mail:
Bibliotecari:
Irimuş Niculina Gabriela
Sârbu Cristina Adela
Descriere filiala:
The Library of Zoology is located in the Hasdeu Student Complex, in the Museum of Zoology building, on the first floor (accessible by the spiral staircase)
The first publications of the Library of Zoology came from the Zoology Institute, the Speleological Institute, the Transylvanian Museum Society. In 1951, the Library of Zoology became a branch of CUL. The scientist Emil Racoviţă, an important figure in the fields of biology and speleology, was involved in the modernization of the library – he compiles a complete catalogue divided into subjects of the journals of natural and medical sciences, he acquired an impressive collection of books and magazines from the German anatomist Karl Gegenbauer.
The reading room is located at the entrance of the library and it offers its users: 30 sears, 2 computers for the online access to the CUL catalogue, the library databases and the subscribed databases, wi-fi, an exhibition of the new periodicals and free access to the shelves.
The library publications cover the following fields: natural sciences, biology, zoology, genetics, anatomy, animal and human physiology, ecology etc.
Collections:
Books: 32729 volumes
Periodicals: 13136 volumes
Special publications:
Die Schmetterlinge Europas, red. Arnold Spuler, Stuttgart: E. Schweizert'sche Verlagsbuchhandlug, 1910
Medicinische Welt. Gallerie von Zeithgenossen, Berlin-Charlottenburg: Adolf Ecksteins Verlag
Testut, L. : Traite d'anatomie humaine, Paris: Gaston Doin & Cie, Editeurs, 1928
Leeuwenhoek, Antonio van: Arcana Naturae, Delphis Batavorum: Aqud Henricum a Krooneveld, 1965
Weaker, Robert F.; Hedrick, Philip W.: Genetika, Budapest : Panem, 2000
Handbook of the mammals of the world, Barcelona: Lynx Ediciones, 2009-2013
Encyclopedia of marine mammals, Amsterdam: Elsevier, 2009
Atlas of biodiversity risk, Sofia, Moscow: Pensoft, 2010
The library's own databases:
The book collection: CartiZool – 11773 records
The periodicals collection: RevZool – 910 records
Acta Theriologica : 1658 records
National Geographic : 556 records