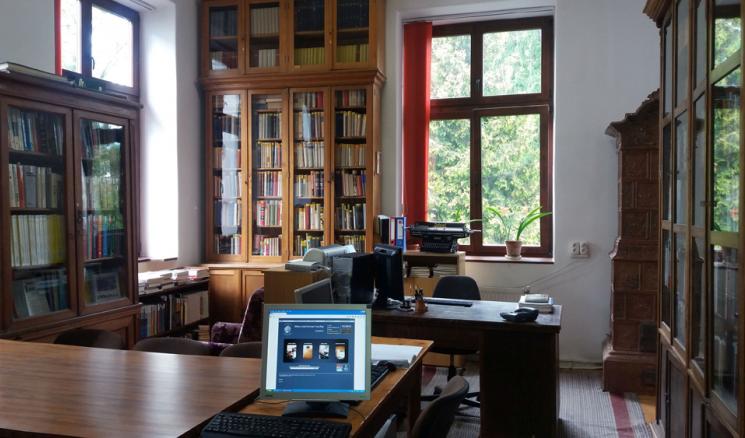 Date de contact:
Adresa:
Str. Clinicilor, Nr. 5-7, Cluj-Napoca, România
Telefon:
0771 358043
E-mail:
biblioteca_fizan[at]yahoo.com

Descriere filiala:
Localizare
Biblioteca de Fiziologie Animală se situează în cadrul Complexului Studenţesc "B.P. Hasdeu", între Facultatea de Geografie şi Catedra de Zoologie (Muzeul de Zoologie, Vivariu).
Istoric:
Înfiinţată în 1937, Biblioteca de Fiziologie Animală a luat naştere graţie marelui om de ştiinţă, prof. univ. Aristide Grădinescu.
O mare contribuţie la dezvoltarea colecţiilor acesteia o constituie preţioasa donaţie oferită de acad. Eugen A. Pora, care, în 1979, a donat bibliotecii un număr impresionant de volume cărţi şi periodice.
Domenii acoperite:
Fondurile bibliotecii cuprind publicaţii ce acoperă o mare varietate de domenii atât biologice, cât şi conexe: fiziologie umană şi animală, biologie celulară şi moleculară, biochimie, biofizică, microbiologie, anatomie, histologie, embriologie, imunologie, genetică, evoluţionism, biotehnologie, bioinformatică, biostatistică, ecologie moleculară, medicină, nutriţie, chimie, fizică etc.
Fonduri:
~12000 volume
Cărţi: 7700 volume
Periodice: 4100 volume
Baze de date:
Biblioteca oferă acces atât la bazele de date ştiinţifice abonate (EBSCO, ScienceDirect, SpringerLink, Emerald, Wiley Online Library, Clarivate Analytics, Scopus etc), precum şi la baza de date proprie ProCite, ce cuprinde înregistrările cărţilor şi revistelor existente în bibliotecă.
Publicaţii deosebite:
Brehm, Alfred E. Brehm's Tierleben. 1911-1916.
Brehm, Alfred E. Les merveilles de la Nature. 1984-1901.
Grasse, Pierre P. Traite de Zoologie: anatomie, systematique, biologie. 1946-1960
Perrier, Edmond. La vie des animaux illustree. 1902-1906.
Perrier, Edmond. Traite de Zoologie. 1927-1932.
Alberts Bruce, Johnson Alexander, Lewis Julian, Molecular biology of the cell. New York ; Abingdon : Garland Science, Taylor & Francis Group, 2008.
Madigan Michael T., Martinko John M., Bender Kelly S., Brock biology of microorganisms. Boston ; Columbus ; Indianapolis ; [etc.] : Pearson, 2015
Drake Richard L., Vogl A. Wayne, Mitchell Adam W. M., Anatomia lui Gray pentru studenţi. Bucureşti : Prior, 2014.
Biblioteca deţine colecţii ale unor reviste de specialitate atât din ţară (Studia Universitatis "Babes-Bolyai". Biologia, Romanian Journal of Biology. Zoology, Romanian Journal of Biochemistry, Romanian Journal of Biophysics, Romanian Journal of Neurology etc), cât şi din străinătate (CELL, The Journal of Clinical Investigations, Anthropologiai közlemények etc).