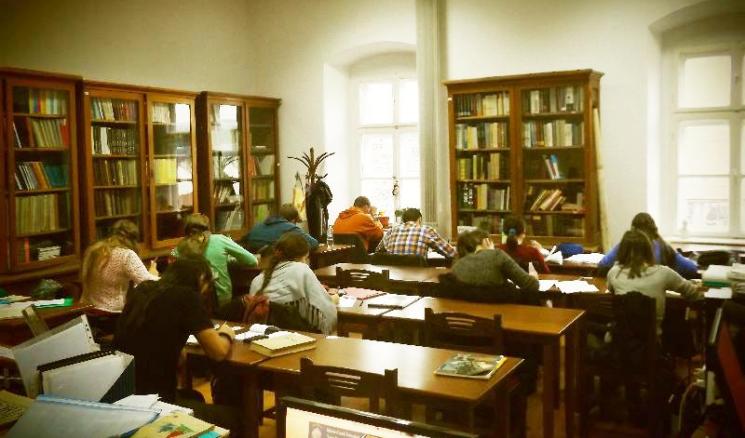 Date de contact:
Address:
Constantin Daicoviciu Street no. 2, second floor, 400020, Cluj-Napoca, Romania
Phone:
0771-414-085
E-mail:
Clara.Fulea@bcucluj.ro
Bibliotecari:
Clara Fulea - Office Manager
Ioana Draşoveanu
Ștefan-Mihai Martinescu
Descriere filiala:
The Library of Pre-Modern History is a documentary library, as well as a higher education library, a branch of the Lucian Blaga Central University Library. From a scholarly viewpoint, the library contains the most valuable book collection in the country for the fields of ancient history, archaeology, classic philology, Byzantinology and art history. The library functions within the National Museum of Transylvanian History building due to the historical contexts in which it was active.
The primary chronological stages of establishing the library were as follows
1859 – the creation of the "Transylvanian Museum" society and implicitly of its library
1872 – the foundation of the University of Cluj
1919 – the foundation of the Romanian University in Cluj, which thus takes over the patrimony of the former Hungarian University, and within which the Faculty of History and Classic Languages is founded.
1929 – the Institute of Classic Languages came into being through the unification of the departments of classic languages, ancient history and archaeology with the "Transylvanian Museum" Society; a unified library is also established, containing the publication collections of the University and of the "Transylvanian Museum"
Collections:
In spite of the numerous changes that occurred in the judiciary and administrative status of the institutions that patronized the library, the book collection remained unitary and remained located in the same building, which is why the library presently holds books of an immeasurable value.
The Library of Pre-Modern History and Art History today contains the old collection of the "Transylvania Museum", the collections of the Hungarian University, of the Romanian University, of the Institute of Classic Languages, of the Institute of History and of the Institute of Archaeology and Art History.
The old collection from the library patrimony has always been enriched through acquisitions, publication exchange and donations made by different institutions and private individuals.
Books: 39300 volumes
Periodicals: 5200 volumes
Special publications:
Foreign periodicals dating back to 1880
Books in prestigious editions
Old and patrimony books
Bibliographies: